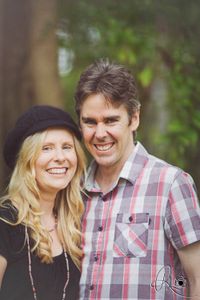 For over a decade, Bel has shared at churches of all denominations and traditions. Bel typically partners with her husband
Phil Thomson
when sharing at Church services. In addition, Bel regularly conducts evening concerts or special events which can be held any night of the week. These are great opportunities for inviting friends to hear a Gospel message through stories and songs. 
Church Service Ministry Format:
The usual format of Bel & Phil's presentation in Sunday services is that Bel shares her songs and the stories behind the songs (real-life testimony of faith & hope) and Phil shares a 10-15 minute message to tie the presentation together and issue a challenge from God's word. Typically for a Church service, the host Church leads the first 1 to 3 worship songs, then announcements & offerings before conducting a short interview with us by way of connecting with the congregation. Then simply hand the service over to us. Bel then takes people on a journey, weaving her songs amongst real-life stories of faith and hope. Phil shares a 10-15 minute message of challenge and encouragement before the presentation concludes with a congregational song. If you would like communion in the service, we can also include that in our presentation. We tailor our presentation to the specific demographic of your congregation, depending on the make-up of your morning or evening service and have been equally well received at Conservative and Pentecostal Churches.
See what Pastors from various denominations are saying about Bel by viewing the
Testimonials page.
If you'd like to enquire further, or make a booking, please complete the 
online booking form.